Love It or Leave It Guarantee
---
You're buying a chair online that you've never sat on and you're worried. Buy from us and just save the original box and packaging!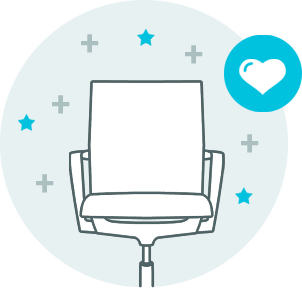 Try Any Chair for 60 Days
Free Returns and Shipping
Take up to 60 days to settle in and make sure you are happy with your chair. Note that there is a one-time limit of 3 items and you have to return it in like new condition with the original box and packing materials (we use a careful process to pack our chairs so we need it back the same 😊).
We'll Cover the Entire Chair
Full 2 Year Warranty
Although we can't cover the upholstery (because our materials are cloth and leather, not teflon) - we do cover the structural frame, mechanism, and all parts for 2 years. Well, as long as it's not from neglect or carelessness (like dirt/dye transfer from clothing).
No Broken Parts Allowed
Lifetime Warranty on Parts
Our chairs are already using commercial grade components, but we will cover all of the moving mechanical parts for life, happily sending you new pieces if a problem arises. See additional details below.
500,000+
Products Shipped
---
Every year, we ship to tens of thousands of companies and individuals across America.
99.8%
Seller Rating
---
We love our customers and 499 out of 500 customers rate us as a five-star seller in Amazon.
Extra Details from the Lawyers
Free returns are only offered for customers living in the lower 48 US states and for chairs purchased directly through lauradavidsondirect.com.

The 60-day return policy covers up to three items and is limited to one lifetime redemption per business or household (not per order).

Original box and packaging material is required.

If ordering multiple products, and you need to return all items, we'll cover the return cost of your first three, and provide discounted return labels for any additional items. The return label cost will be a flat $50 per additional item, deducted from your refund.

If purchasing a chair that is sold as a set of 2, that set of 2 is considered a single item.

Return labels will be issued via e-mail directly through Laura Furniture. (USA Lower 48 States Only)

Returns should be dropped off at a FedEx authorized drop off location. You may request us to schedule a FedEx pickup for an additional $20.00 fee. Packages marked "refused" or "return to sender" are still charged applicable return shipping rates.

Returns must be received in our warehouse no later than 60 days from the date your order is placed.

Returns must arrive in new condition to receive a refund - no scratches, scuffs, dirt, etc. Returned items must be properly packaged with the original box and packing materials to avoid damage, as originally received.

Returns that are damaged as a result of improper re-packaging will not be refunded or returned to the customer.

Custom orders are non-refundable.

Any applicable refunds will be refunded to the original payment method on file. (Credit Card, PayPal, Apple Pay, etc.)

The "forever warranty" covers all moving mechanical parts such as gas lifts and wheels but does not cover damaged or worn upholstery, leather, fabric, internal mechanisms etc. The warranty does not cover dining chairs used in commercial environments as the weight capacity may be exceeded by members of the general public. The forever warranty applies to orders placed in 2021 and beyond.

In the unlikely event that you receive a product that is incorrect, missing parts, or damaged — we'll send you a replacement at no additional cost. Simply e-mail us, and we'll quickly resolve any problems. Replacements generally leave the warehouse within 1 business day of being requested.

If you need to cancel an order prior to shipping, a 3% merchant processing fee will be deducted from your refund.





Need help with a return or warranty?